Hotel & Shop Plus Shanghai 2024 Booth Sales Kick Off
Since February this year, the three major indicators of the hotel industry have fully surpassed those of 2019, with the overall RevPAR of mainland hotels recovering to 120.8% of the same period in 2019, the OCC increasing by 4.9 percentage points, and the ADR increasing by 11.7%. In the past three years, the comprehensive prosperity index of the market has returned to positive for the first time, and the domestic hotel market as a whole has shown a clear upward trend.
                                              ▲ Horwath CHAT: 2023Q1 China Hotel Market Prosperity Survey Report
Among the first batch of reopened hotels, highstar-level hotels including Grand Hyatt Shanghai, Fairmont Peace Hotel, The Puli Hotel and Spa, and Mandarin Oriental Pudong Shanghai account for nearly 40%. Theses high-end hotels have shown their resilience in this first wave of recovery. On Ctrip's platform, the average daily booking volume of Shanghai high start-level hotels recovered and exceeded the average daily level in March by about 25%.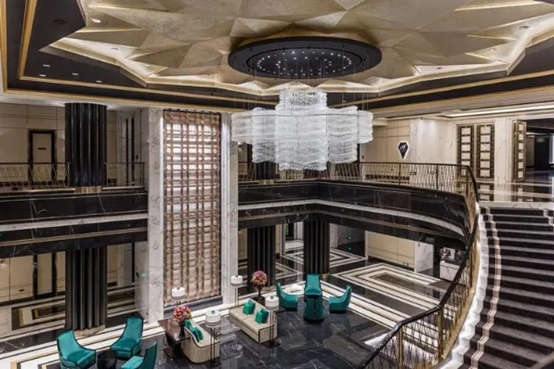 In order to promote the development of new consumption scenarios, cities have vigorously carried out the implementation of business revitalization. According to statistics, there will be 588 shopping malls to open in 2023, which is about 1.6 times the actual opening volume in 2022. The search popularity of "shopping malls" increased by 132% year-on-year, the attendance rate of major cinema chains continued to rise, and the box office exceeded 10 billion RMB. Similarly, the results of the multi-sector consumer market such as hotels, catering, leisure and entertainment are eye-catching。Offline consumption ushered in a long-lost peak, and the economic growth of various consumer industries accelerated.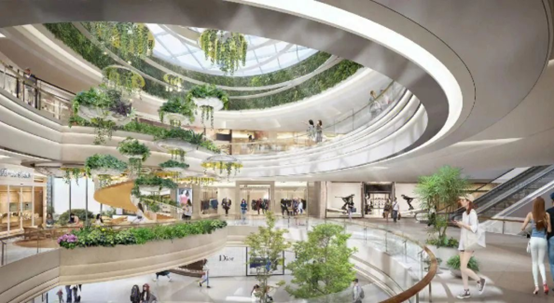 The market is fully recovering, and thousands of business opportunities are waiting for you!
In the face of the opportunity of industrial transformation towards higher level, Hotel & Shop Plus, the large-scale hotel industry trade show, welcomes you to visit Shanghai New International Expo Center (SNIEC) from March 26-29, 2024 for realizing the diversified upgrading of hotel brands and creating supply chain ecology.
Through years of resource accumulation of professional buyers and promotion, we will send personalized invitations to 120,000+ designers, architects, real estate owners and developers, hotel management companies, property management companies and more high-quality visitors and purchasers, so that exhibitors can have one-on-one meetings and sign contracts with buyers and directly understand the market needs and procurement trends in person.
                                                                          ▲Hotel & Shop Plus 2023 Facts
                                     It's time to book space for 2024!
                                     Booths selling fast, contact us now!
2024 Hotel & Shop Plus has a variety of exhibit categories, covering ceramics, sanitary ware and overall solutions, wall/floor materials, outdoor design, interior design, smart hotel, lighting, intelligent control system, hotel supplies, hotel furniture, commercial design, smart retail… Covering 17 exhibition halls of SNIEC, displaying high-end, environmentally friendly, innovative materials and products, creative design, advanced intelligent management systems and equipment, insightful forums and conferences will be held on the show floor, inviting elites from the fields of hotel/design/commercial to jointly empower the construction of hotels and commercial spaces.
2000+ industry leaders will make a wonderful appearance at Hotel & Shop Plus
Hall E1 – Ceramics, Sanitary Ware and Overall Solutions
In recent years, a number of excellent head bathroom hardware manufacturers have emerged in China, and have accumulated mature manufacturing experience and leading research and development capabilities in China in the long-term development. With the continuous growth of the market scale, Hotel & Shop Plus will bring together the top international and domestic bathroom industry big names in 2024 to bring new product releases to buyers from hotels, construction, real estate, and property owners.
Exhibit Categories:
Ceramics, integrated bathroom, smart toilet, bathroom cabinet, shower room, smart bath mirror, faucet shower, floor drain hardware, countertop system, spa, swimming pool equipment, stone, mosaic…
Hall E2 – Floor materials, customization and engineering designs
Floor materials are indispensable basic materials in the decoration of commercial buildings, and their demand has a strong correlation with new buildings. Due to the demand for renovation and consumption upgrades, the market capacity is strong and resilient, and the overall industry scale can exceed the total market capacity at the previous new peak after the new construction peak. It is expected that after the total growth of the industry weakens, it will usher in a rapid increase in concentration, and leading enterprises will have sustainable growth.
Exhibit Categories:
Flooring, flexible flooring, carpets, whole house customization, doors, windows and automatic doors, air ventilation and HVAC equipment, fitness and leisure, parent-child amusement, outdoor furniture, containers, integrated houses, RVs, other engineering facilities…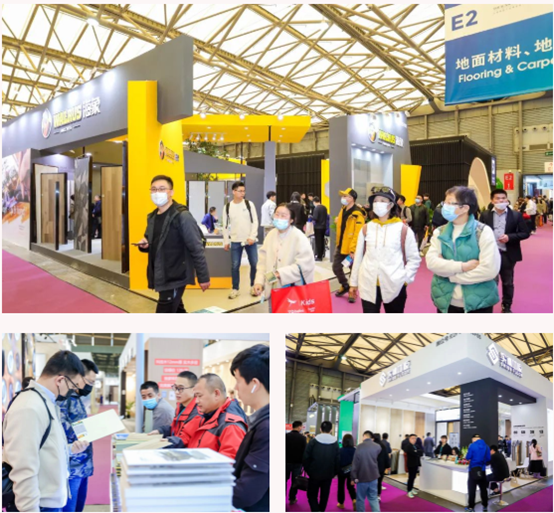 Hall E3 – Wall materials and boutique design
Driven by the wave of consumption upgrading, the building material industry has entered a vigorous development of its life cycle. Consumers in the market are demanding more and more quality living space. As one of the most important categories of space soft decoration, the wall covering and wall materials market has taken off. Whether it is the layout of new formats such as wall coverings and overall soft decoration, or the construction of marketing, we can feel the innovative power of the industry.
Exhibit Categories:
Decorative plates, prefabricated integrated materials, decorative glass, wallpaper, wall coverings, overall soft decoration, coatings, decorative hardware, design companies…
Hall E4 – Lighting & Intelligent Control
The lighting design of hotels and commercial spaces plays an important role in the consumer experience, and the adjustment of light and dark, light and shadow, and even the matching of colors are all the creation of an "experience". The exhibition will join hands with many well-known commercial lighting brands to jointly build an intelligent, green, healthy and safe ecological development circle in the hotel lighting industry.
Exhibit Categories:
Hotel and commercial lighting, decorative lights, architectural lighting, landscape lighting, intelligent control systems, intelligent electrical systems, lighting design companies, sound and light installations and systems, artistic landscape installations…
Hall E4 – Commercial Design & Smart Retail
Nowadays, consumers have changed from the pursuit of cost-effective to the pursuit of immersive experience, which prompts businesses to urgently change their growth model, and if they want to expand the high-premium space, they must create a good experience for consumers. When it comes to experience, the "scene" is a key point that cannot be ignored, allowing consumers to actively participate and shift their focus to the situation of experiencing the charm and value of the brand in the "feeling".
Commercial Design, Commercial Lighting, Self-service Vending Machines, Self-Service, Visual Arts, Art & IP, Shopping Mall Guidance and Signage Systems, Smart Commerce…
Hall E5-6 – Smart Hotel
High-tech technologies such as the Internet of Things, big data, and artificial intelligence support the efficient and intelligent management and service of smart hotels. The national smart hotel grows rapidly at a rate of 10%-15% every year, and quickly occupies the industry market, leading the direction of the development of today's hotel industry. Looking forward to the future, the vitality of cultural tourism consumption will be restored at an accelerated pace, and smart hotels characterized by digitalization, networking and intelligence are ushering in new development opportunities.
Exhibit Categories:
Smart hotel and overall solutions, commercial and hotel robots, e-sports hotel brands and overall solutions, hotel guest control systems, hotel locks and management systems, hotel self check-in and solutions, digital signage and guide systems, IT and security, TVs, hotel signage, sunshade and curtain motors, commercial displays, digital intelligent hotel solutions…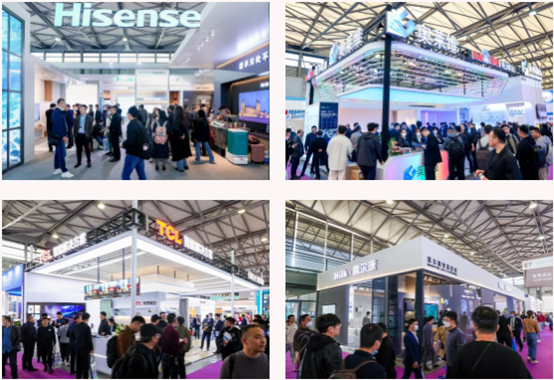 Hall W1-2 – Hotel Commercial Furniture, Mattress and Soft Decoration Design
With the improvement of people's consumption level, choosing a hotel is to fancy the comfortable sleep and intimate service brought by the hotel. The exhibition showcases cutting-edge space design, high-end environmentally friendly materials, advanced hotel furniture and soft decoration design… It can not only improve the appearance of the space, but also help the hotel and commercial space industry understand innovative ideas and new consumer needs.
Exhibit Categories:
Hotel Furniture, Office Furniture, Outdoor Furniture, Soft Decoration Design, Hotel Mattresses, Space Design, Customization, Public Furniture, Catering Space…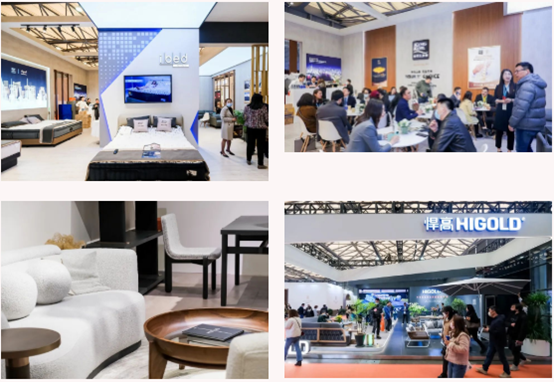 Hall W3-5 – Hotel Supplies Complex
Whether the guest room linen is clean and hygienic, and whether the toiletries are safe and easy to use, is often one of the most concerned issues for guests, and it is also a business card for the hotel to show its image to the outside world. With the standardized development of the hotel industry in recent years, many domestic hotel supplies and linen markets have gradually achieved many strong brands, which are mainly concentrated in the high-end hotel market and have become the focus of large hotel groups.
Exhibit Categories:
Guest room linen, bathroom linen, tablecloth, uniforms, curtains, hotel textiles, guest room appliances, room supplies, lobby supplies, consumables, room ornaments…
Exciting on-site activities gathering 1,000+ industry delegates
The design series activities will be represented by  China International Building & Interior Design Forum (IDF) and China Restaurant Interior Design Awards (CRIDA), etc., to fully explore the power of excellent design, deepen industry exchanges with multi-dimensional cross-border dialogues, and create an international design exchange platform!Through conference forums, model room tastings, design exhibitions, etc., it will show how design can reshape and imagine hotel and commercial consumption scenarios with a more diversified sense of experience.
The hotel series activities will showcase the cutting-edge hotel operation concept in an all-round way through forums, activities, competitions and other forms. It includes Hotel Plus Mockup Room Show, China Hotel Procurement Conference, Hotel Brand Culture Festival, Hotel Uniform Show, Hotel Housekeeping Competition and other activities, looking for new opportunities for hotel operation in the post-epidemic era.
The series of lighting forums is represented by the China International Lighting Design Forum, focusing on multiple lighting design as applications including hotels, commercial spaces, architectural landscapes, office buildings, etc.Many well-known lighting designers, interior designers, and hotel management companies in the industry will attend forums and discuss the lighting design and application in the field of hotels and commercial spaces.
The commercial Series Forum has joined hands China Commerce Association of General Merchandise (CCAGM) to create a one-stop procurement and cutting-edge information sharing platform covering shopping malls, supermarkets, lifestyle brands and related ancillary products. The activities include China Shopping Mall Development Forum, China Outlets Development Forum, China Retail Digital Transformation Forum, China Restaurant Interior Design Forum etc.
Explore super lifestyle trends and engage in interactive experiences
HOTEL PLUS B&Bs Culture Festival
The demand of the new urban middle class for leisure and vacation in China has exploded, and urban travel and micro-vacation have become hot words for travel, and the transformation of hotels will come quickly. The exhibition will expand the resources of B&B, invite B&B brands to participate, and create a Hotel Plus B&B Cultural Festival during the show period.
Wild Luxury Show
Display outdoor B&B customization, prefabricated container buildings, outdoor furniture and installations, camping equipment and appliances, camp development and operation, , outdoor lighting, landscape and design, etc. The operation direction includes rural complexes, boutique B&Bs, resort hotels, outdoor camps, lifestyles, etc.
Pop Office Carnival
The evolution and development of the office environment has always been accompanied by changes in design, management and technology and other fields. A special exhibition area themed as Pop Office Carnival will be set up at the exhibition site to spread the concept of trendy office design.
E-sports Hotel Chain Brand Franchise Exhibition Area
This exhibition area will combine the preferences of Generation Z to gain insight into the market in the new era, make the investment of e-sports pan-entertainment hotels more forward-looking, high-quality and sustainable, allow e-sports industry chain enterprises to participate in the market reform of the hotel industry, and make hotel investment and procurement more scientific and forward-looking.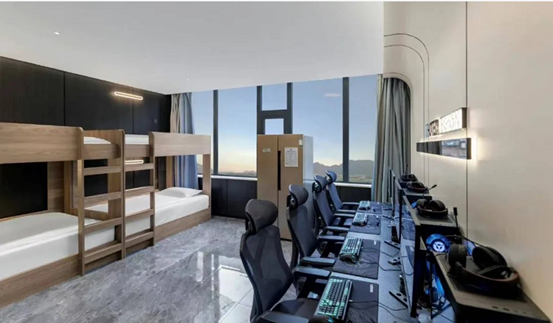 Reach trade buyers Through Hotel & Shop Plus globalization and multi-channel promotion
The exhibition continues to expand the resources of professional terminal buyers every year, and invites professional buyers such as well-known hotel management companies, design companies, real estate developers, and catering owners in the industry to participate. Buyers and suppliers can directly working together on the procurement needs and conduct business procurement docking more efficiently.
Hotel Management Companies:
Marriott Hotel Group, InterContinental Hotels Group, Hilton Hotels Group, Shangri-La Group, Wyndham Hotel Group, Huazhu Group, BTG Homeinn Hotel Group, Dossen International Group, Jinling Hotel Group, Narada Hotel Group, New Century Hotels & Resorts, Greenland Hotel And Tourism Group, Zhejiang Tourism Investment Group, Wanda Hotels & Resorts, Funyard Hotels & Resorts, Banyan Tree Group, Mandarin Oriental Hotel Group, Accor Group, CYTS Hotel Group, Green Hotel Group, Sunmei, Minyoun Hospitality…
Adedas, AECOM, AFSO, B+H Architects, Carrison Architects, CCD, Denniston, DOP Design, Studio HBA, Montaigne Design, Foster + Partners, Gensler Architects, HASSELL Design Group, KOKAISTUDIOS, Rockwell Group, HMA Architectural Design, China Architectural Design & Research Group, East China Architectural Design and Research Institute, Modern Design…
Commercial space:
Bailian Group, Dongbai Group, Liqun Group, Wangfujing Group, Haidilao Group, Gucci, Adidas, Costa Coffee, Gap, Ltd., Shanghai Zhihe Fashion Industry (Group) Co., Ltd., I.T China, KFC, McDonald's, Muji, Nike, Swarovski, Uniqlo, Häagen-Dazs China, Joy City.
Real estate companies:
Vanke Shanghai Group, Swire Properties, Tishman Speyer, Sunac China Holdings Limited, Kerry Properties, Ronshine China Investment, RiseSun, Excellence Group, Sincere, HelenberghEstate, KWG , Hopson, Hengtong Construction Group, Zoina Construction, Hang Lung Properties, R&F Properties, Greentown China, Longfor…
Hotel & Shop Plus has its own comprehensive industry media matrix, with 4 WeChat service accounts and 4 WeChat subscription accounts, focusing on various fields of hotel and commercial space construction and operation. And in conjunction with domestic and foreign TV media, web portals, and industry leading KOLs, the total number of related topics on the whole network is 79.8 million+, and the total number of WeChat readers exceeds 300,000+.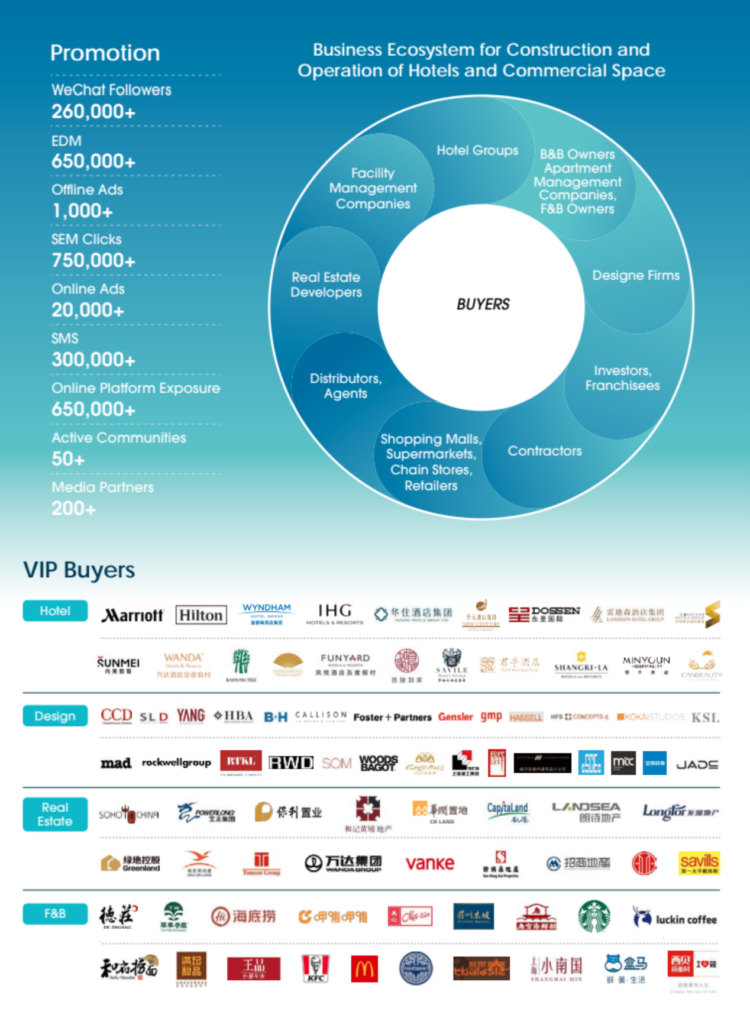 Expand brand exposure and grow your business by HPGLE, the B2B tool powered by Hotel & Shop Plus
The exhibition launched the WeChat mini program, covering online shopping mall, virtual exhibition, community marketing, matchmaking, knowledge sharing and live sessions and other special functions and services, providing a full range of marketing and transaction matching services for both supply and demand sides of the hotel and commercial space industry, and make Hotel & Shop Plus taking place 365 days a year!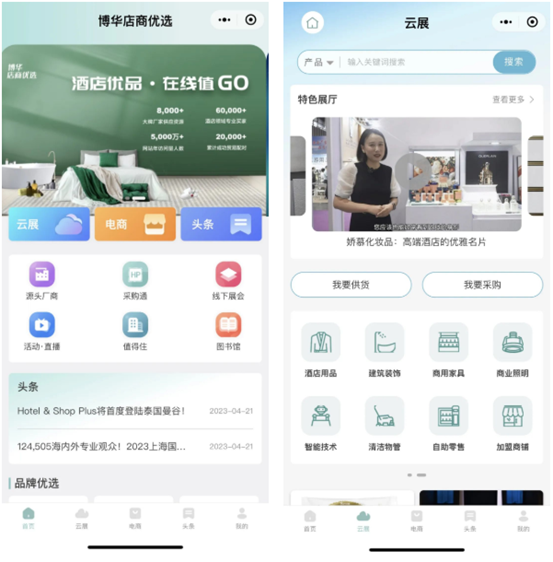 510+ communities run through the hotel and commercial space construction and operation industry chain! Based on the construction of the hotel and commercial space industry, it brings together 100,000 professionals in the industry, selects a number of high-quality source suppliers to share resources every day, and regularly holds business matching, factory live broadcasts, corporate brand shows and other activities. There is also an exclusive customer service 1V1 docking demand service, enabling suppliers to expand business cooperation!
The exhibition site will be broadcast live on the WeChat mini program. In the 2023 exhibition site, a total of 40 live forums will be broadcast simultaneously, including hotel design and smart business, attracting a total of 30,000+ viewers to watch the live broadcast.
For more information, please go to www.hdeexpo.com/en, or follow Hotel & Shop Plus on Twitter @HDE_Event, Facebook @HotelPlusHDE, and LinkedIn @Hotel Plus – HDE.

About Hotel & Shop Plus
Hotel & Shop Plus is China's leading trade show catering to hospitality and commercial space industry. Serving as one-stop sourcing platform for hotels, restaurants, clubs, retail shops, shopping malls and other commercial properties, the mega event is consisted of 8 sub-shows spanning exhibit categories from architectural decoration, engineering design, lighting, intelligent products to hotel amenities, furniture, cleaning, facility management, smart retail and franchise. By presenting the latest products and innovative brands, Hotel & Shop Plus is leading the way in construction and operation of hotels and commercial projects.
For media cooperation, please contact Jade Liao via email at jade.liao@imsinoexpo.com.