Bill Bensley Designs a Hilton "Zoo Hotel" for Humans in China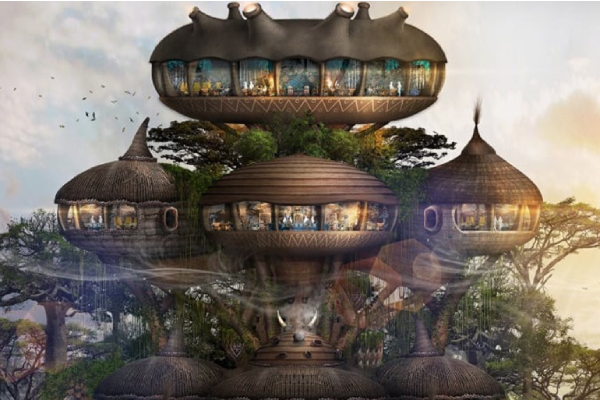 Conservationist architect Bill Bensley inverts the typical zoo format for a wild new Hilton hotel project in China.
Bangkok-based architect Bill Bensley came up with a radical idea when he was asked to design a Hilton hotel in China that also featured a zoo: that instead of caging the animals, he would cage the humans and let the wildlife roam around outside.
We take a look inside the proposed WorldWild outpost in Guangdong.
Humans in captivity
It's ironic that, during the current coronavirus lockdown, a luxury zoo-come-hotel that houses humans instead of animals should be making headlines, but these are no ordinary times.
Bangkok-based architect and lifelong conservationist Bill Bensley has executed many 5-star hotel projects over his extensive career, but none quite as ambitious as his WorldWild project, which will see several internationally branded hotels rolled out across the globe, one of which has a particularly catchy angle: that the hotel itself acts as a human zoo.
Bensley was approached by a client who wanted to incorporate a zoo into their proposed project in the Guangdong province of China, but the architect, who most definitely thinks outside the box when it comes to design, came up with the novel idea of putting the humans inside luxury $1m suites, with the animals free to roam around outside the hotel.
5-star luxury…with neglected animals
Bensley's biggest win with this proposed hotel followed a meeting with local Communist Party members, who green-lighted his idea to take neglected and abused animals from around zoos in China and relocate them in the grounds around the hotel.
The hotel will sit on a site where the design team will reinstate wetlands to encourage biodiversity, and the animals will be released into the 2,000-hectare plot to roam freely.
These neglected animals will no doubt need some tending to once they arrive, but the team has also decided to rehabilitate them on site, so they have a positive association with their surroundings.
Animals will have preference on site, as they are allocated 95% of the land, while humans will reside in 5% of the grounds in the hotel.
Sustainability by design
The hotels which form part of the WorldWild project will have a heavy focus on sustainability in their design.
Eco-friendly initiatives such as prioritising natural light and ventilation, using as much greenery as possible on terraces, roofs and on the ground, growing vegetables and fruit on site, cutting down on plastic use and equipping rooms with sustainable alternatives like bamboo toothbrushes are just some of the elements Bensley wants to focus on.
The architect is the son of a gardener, and this can be seen in the extraordinary renderings of his proposed hotels – lush foliage, timber-decked terraces and pool areas, wooden construction and references of vernacular building types and architecture all appear in his sketches. The collection of hotels is expected to open in 2023.