HDE 2019: Booths about to Be Sold Out and Event Sponsorship Fully Launched
Hotel Plus – HDE Shanghai 2019, to be held between April 26 – 28 at Shanghai New International Expo Centre (SNIEC), China, will be a one-stop purchasing platform catering to hotel construction and operation, which covers ten areas: architectural decoration, engineering design, fitness and entertainment, interior design, lighting and intelligent control, green building materials, guestroom supplies, hotel linen, smart hotel, IT and security. The event will be hosted by UBM Sinoexpo.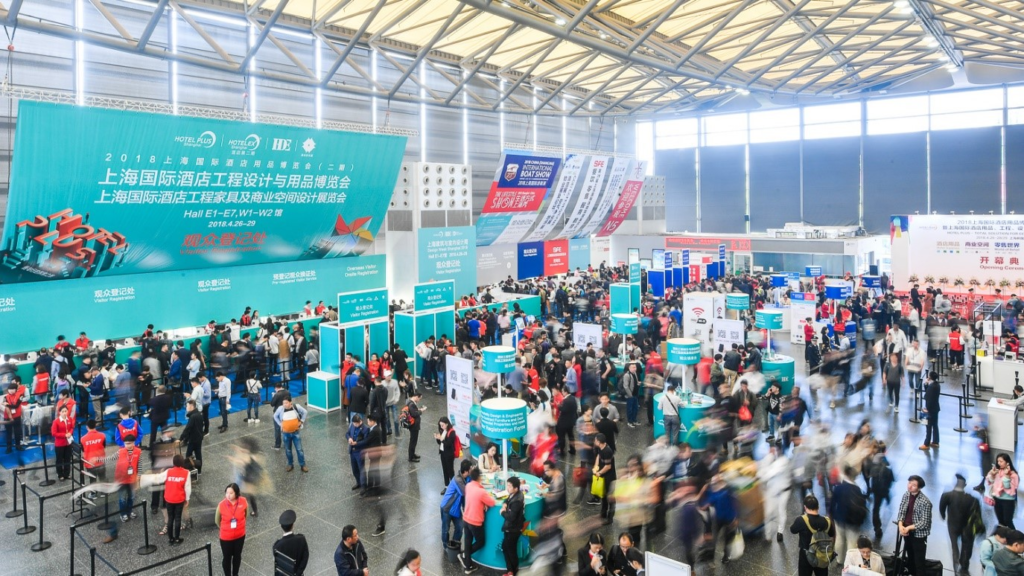 Hotel Plus – HDE Shanghai 2018 has attracted over 130,000 visitors at home and abroad.
Featured event programs will also take place in the same period, including Design Week Shanghai and series conferences, Charm of Light, Hotel Culture Week, Mockup Room Show, Global Real Estate Architect Festival, B&B Cultural Festival, Award and Gala Dinner. These event programs, whose preparations are in full swing, are also highly sought after by exhibitors and potential sponsors.
Booths about to Be Sold Out, Visitor Registration Started. Covering the entire space of SNIEC and the whole industry chain of construction and operation in hotels and commercial properties, the event will gather well-known enterprises at home and abroad together to showcase their products and follow the growing trend, forming a one-stop purchasing platform for the construction and operation of hotels and commercial properties.
So far, up to 80% of booths have been sold out. The exhibitor recruiting work will soon draw to an end. The event has already attracted plenty of premium brands to participate, including Gree Air-conditioner, Panasonic, Yuanzhicheng, Ruiyate, HD Carpet, Pusu, Florina, PAK, Tons Lightology, Lierda, BeyondHost, Bittel, DMVP, Tianyang Wall Covering, L'Occitane, Tangnian, Technogym, Liangmianzhen, and Jiaomu, among others.
Hotel Plus – HDE Shanghai 2019 will continue its commitment to support material suppliers, realizing business value of their products, building brand design concepts and expanding the most promising and emerging markets.
Meanwhile, the event registration has opened. Visitors can register now at the official website, where they will get a free ticket and save 50 RMB.
For more information about the event, please visit www.hdeexpo.com or follow us on WeChat (Account ID: HotelexHDE).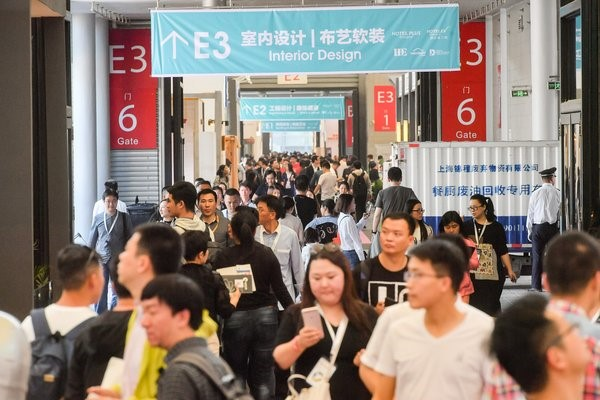 Huge visitor flow in the event
Event Programs are Being Prepared, New Title Sponsors Welcomed.
After years of development, event programs will make further exploration into its theme of "design". Industry professionals including land owners, developers, architects, designers, lighting engineers and hotel management company representatives will be brought together through Design Week Shanghai, Global Real Estate Architect Festival, Hotel Culture Week, Charm of Light, Awards and Gala Dinner, exchanging information and sharing opinions with deep passion.
Mockup Room Show
With great support from China Tourist Hotel Association, Mockup Room Show has been successfully held for several years. The show presents popular hotel brands and innovative design concepts by mocking up rooms in real scenes. Former participants included hotel management companies, namely Intercontinental, Greenland, Kaiyuan, Hilton, Starwood, Shimao, Huazhu, Dongcheng, Minyoun and Canbeauty, as well as design firms, such as Studio HBA, Interscape, Woods Bagot, WT (Italy), Lai Yanan form DOMO (HK), James Tu from Audi Design, Huang Quan from G-art Design, Ling Zida from Daguan Architecture, Zheng Shiliang, Wang Xinyan and Fang Zhenhua.
Series Conferences
Over 50 high-end forums and salons took place along with the event in 2018, where more than 500 industry celebrities and elites in the fields of real estate development, hotel management and design shared their experience with over 9,000 professional visitors. World top designers are invited to share their philosophies every year, which receive great responses. Tony Chi, Wu Zhongkuang, Yang Bangsheng, Hu Weijian, Joey Ho, Kinney Chan, Bill Bensley, Piero Lissoni, Nathan Thompson and Sally Storey have showed up in the forums in the past.
Golden Palace Award and Gala Dinner
In order to fully honor the industry achievements and highlight the excellent work of leading companies and professionals, the Golden Palace award ceremony is held every year during the event. Real estate tycoons, hoteliers and top designers gather here to present a grand industry evening party.
Charm of Light, Ingenuity of Heart
Many top designers and representatives from hotel groups, commercial real estate and design communities gather together to discuss front-line topics dealing with lighting in commercial properties including commercial buildings, hotels, retail space, restaurants and clubs, interpreting the core value of design from their professional perspectives of lighting.
More event programs including Global Real Estate Architect Festival, B&B Cultural Festival, Hotel Service Skill Competition and Hotel Uniform Show are also being prepared. These exciting event programs will connect professionals from different sections in the fields of production, purchasing, application and construction to create enormous business opportunities.
Plenty of leading companies sponsored the event in 2018 and received great attention. Premium brands including Kohler, IKEA, de RUCCI, Bergdala and Visual Feast declared that sponsoring the event was a great opportunity to enhance the brand image and gain exposure.
Companies who would like to be the sponsor of Hotel Plus – HDE Shanghai 2019, please contact Ms. Helen Du via helen.du@imsinoexpo.com