Chinese Domestic Tourism to Rebound with Peak Season Ahead in May
The Joint Tourism Big Data Lab of China Tourism Academy and Ctrip, China's largest online travel agency, recently unveiled "2020 Post-epidemic Tourism Big Data Research Project" and launched the first collaborative research report – 15 Findings and Trips to be Started: A Survey Report on Chinese People's Willingness to Travel After the Epidemic (hereinafter referred to as "report"). The report received questionnaire feedback from nearly 15,000 respondents across over 100 cities in China. More than 85%, among whom 64% are men and 36% women, are aged 18-45 years. According to data analysis and comparison, Chinese people's willingness to travel remains strong in the second half of this year and even the full year. A peak travel season is forecasted to start from this May Day holiday.
Nearly half (43%) of the respondents showed willingness to travel this year between March and June if the epidemic would be brought under control. The number of respondents ready to travel in April is twice that of March. 16% of the respondents would plan to travel in May which ranked top 1 of the year. June, July and August were preferred by 15% of them respectively. October is the peak season due to National Day holiday, accounting for 14% respondents.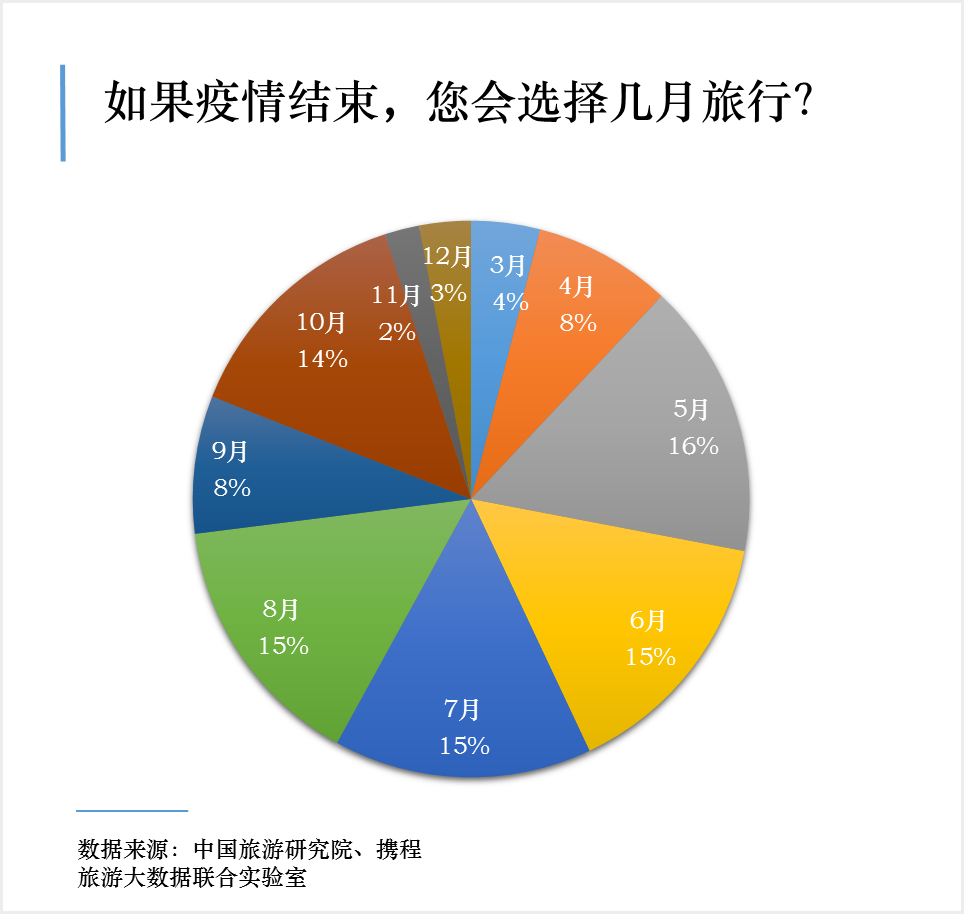 With regard to main purpose of post-epidemic travel, leisure vacation came first, accounting for 30%. Sightseeing accounting for 24% ranked second, while exchange activities under the theme of culture, sports, education, science and technology accounting for 9% ranked third. After the extraordinary period, leisure vacations, cultural and sports activities are favored by more tourists. When it comes to travel companions, family members came first, accounting for 42% of the total. Products suit for parent-child or family travel will be more popular with tourists. In addition, 22% of the respondents would prefer travel with friends, 20% would prefer travel with group, and 13% solo travel.
When considering transportation type, 41% of them would prefer road trips while 29% high-speed trains, 16% buses and 14% planes. It indicates that road trips and travel by trains may become the mainstay in post-epidemic tourism market.
Where will people travel first after the outbreak? Over 90% respondents would like to travel inside the country. Among them are one-day trip, short trip and long-distance travel, accounting for 24%, 43% and 23% respectively. Currently, travel product launching and booking through OTAs are also in line with the trend. Tickets, ticket + hotel packages, suburb tours are the first to recover.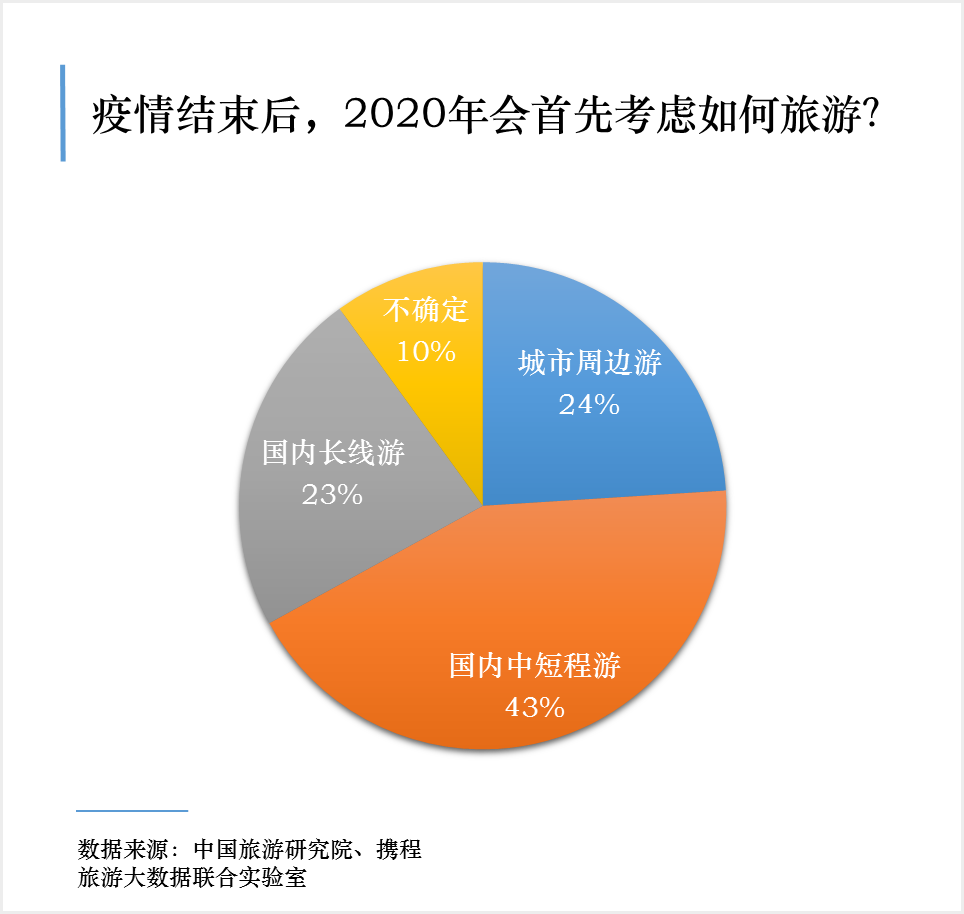 What theme activities tourists will prefer during post-epidemic period? Natural scenery and city sightseeing are the two key words accounting for 21% and 20% respectively. In addition, 16% of the respondents want to visit museum. Other popular options include 13% flower tours, 13% parent-child interaction, 11% ancient town and villages, and 6% sports activities.
It is found that with the reopening of scenic areas people have strong will to go sightseeing in natural attractions. Data indicates that 78% of respondents are willing to go to scenic areas. The number of online tickets booking increased 100% in recent weeks, according to data from Ctrip.
The report also points out that Chinese travelers are still willing to spend money after the epidemic. Travel expense will continue to be considered as an important part of family consumption in 2020. 60% of the respondents plan to spend more than 10,000 RMB on travel, while the budget of nearly half (45%) of respondents is between 10,000-30,000 RMB and 15% are more than 30,000 RMB. 44% of respondents anticipate that the spending on travel this year will occupy 5%-10% of the total family income, while 30% plan to spend 10%-20% of the total family income on travel. Furthermore, after the outbreak more people will decide to buy travel insurance; the investigation reveals that 74% of respondents will consider purchasing travel accident insurance in 2020.
Translated by Hotel & Shop Plus team