Outbound Traffic Resumes in Wuhan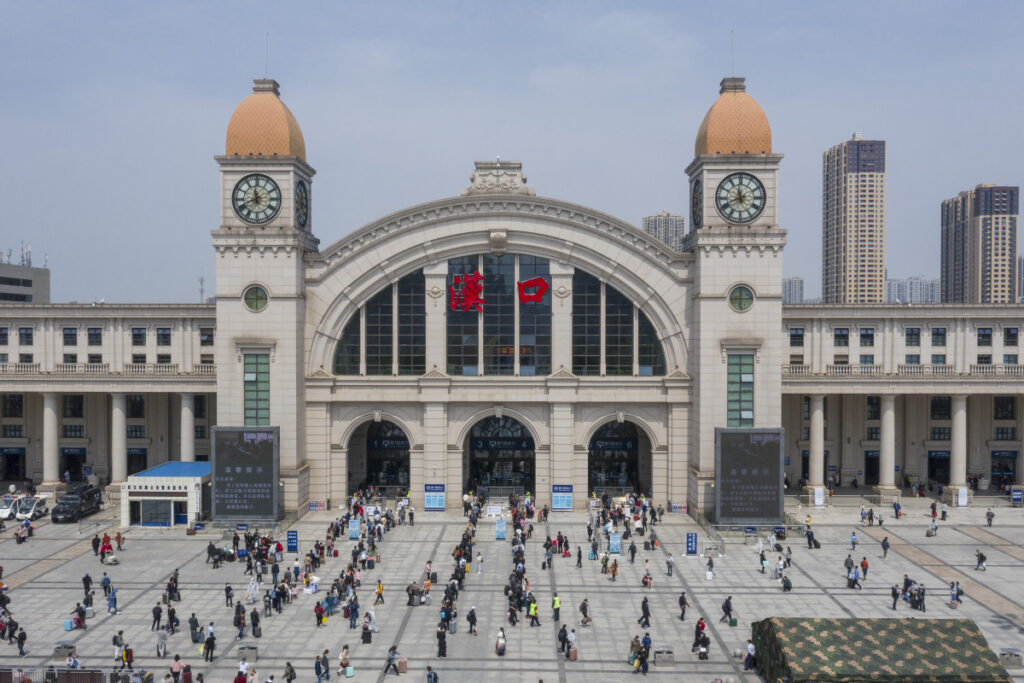 Hankou Railway Station in Wuhan, Hubei province, resumes operations on Wednesday after the city ends a 76-day lockdown. WANG JIANG/FOR CHINA DAILY
After 76 days of lockdown, Wuhan, capital of Hubei province, lifted outbound travel restrictions on Wednesday as the novel coronavirus outbreak has been effectively controlled in what was the hardest-hit city on the Chinese mainland.
The reopening of the city is considered to be proof of the monumental progress China has made in its fight against the contagion as the pandemic rages in other parts of the world.
Barricades set up at highway entrances in Wuhan were removed at midnight and cars lined up at expressway toll gates and drivers honked their horns and left the city. Big data from Wuhan traffic police forecast that expressways would see a peak of outbound vehicles on Wednesday.
Guo Lei, who has a business in Wuhan, was driving with six others in his car for a trip home. "I can't wait to return to my hometown," said Guo, a native of Shandong province. "During the Spring Festival holiday, my relatives came to the city and helped me deliver goods. We were all stranded here due to the epidemic."
Passengers boarded trains and planes to leave the city early Wednesday morning. The railway and airport authorities required passengers to scan codes on their phones indicating their health status and have their temperature checked as they entered train stations and the airport. Passengers also were asked to wear masks to reduce the risks of infection.
The first intercity train left Wuhan at 6:25 am and arrived at Jingzhou in Hubei. The high-speed train G431 departed for Nanning, capital of the Guangxi Zhuang autonomous region, at 7:06 am. It was the first high-speed train to leave Wuhan now that the city lockdown ended.
Li Fei, the engineer of train G431, said he was happy to drive the first high-speed train. "Wuhan is one of the country's high-speed railway hubs, and it will see a lot of passengers in coming days," Li said. "I'm ready to work with my colleagues to provide safe services to passengers from around the country."
Song Weixing, 54, who took the train G431 for Nanning, where he works, said he had planned to stay in Wuhan with his family for a week during the Lunar New Year holiday, but was stranded in the city for more than 70 days because of the lockdown. "They were really tough days, but we have finally emerged from the difficulties. I want to go back to work immediately," Song said.
On Wednesday, 276 trains departed Wuhan to cities including Shanghai, Shenzhen in Guangdong province and Chengdu in Sichuan province, with more than 55,000 passengers on board.
At 7:25 am, China Eastern Airlines flight MU2527, bound for Sanya, Hainan province, took off from Wuhan Tianhe International Airport, signaling the resumption of the city's regularly scheduled flights. More than 200 inbound and outbound domestic flights were scheduled for the day, the airport said.
Liu Hanbai, who works at the Shanghai branch of Proswell Medical Co, a pharmaceutical services company, took flight MU2507 to Shanghai on Wednesday. He had been on a business trip to Wuhan and was stranded there for more than a month.
"The boarding process went very well. Passengers sit separately and only one-third of the full seating capacity was sold. I didn't see anybody taking off their mask to drink or eat anything," he added.
City officials have worked to make an event of the city's reopening, with a light show, social media campaigns led by media outlets and special events to mark the reopening of the airport and train stations. Skyscrapers in the city center were lit up with messages like "Hello, Wuhan" and "Stay Strong, Wuhan".
Netizens expressed their joy on social media platforms. "'Wuhan lockdown lifted.' Seeing these words almost makes me shed tears," a netizen wrote on Weibo. "After so much struggle, Wuhan has come back."
Public transport including buses, subways and ferries also resumed, further proof the city is reawakening from a standstill. On Jan 23, Wuhan declared unprecedented restrictions in movement, including suspending the city's public transportation and all outbound flights and trains, in an attempt to contain the disease.
As the risk of infection remains, authorities ask residents to limit their outings and not to attend large gatherings. Many residential compounds remain closed off with strict epidemic prevention and control measures.
A statement released by local authorities on Tuesday warned that zero cases of infection does not mean zero risks, and lifting travel restrictions does not mean lifting prevention and control measures.