HOTEL & SHOP PLUS Successfully Concludes Its 2021 Edition, and Will Return Next March!
Under the guidance of Shanghai Municipal Administration of Culture and Tourism, HOTEL & SHOP PLUS 2021, China's leading hotel and commercial space event organized by Sinoexpo Informa Markets in partnership with China Tourist Hotel Association, China Commerce Association for General Merchandise, China Association of Lighting Industry, and China Architectural Culture Centre, wrapped up successfully on 2 April. Covering 210,000 sqm exhibition space, this year HOTEL & SHOP PLUS brought together over 2,000 exhibitors and attracted more than 120,000 visits of wholesalers, distributors, agents, among other trade buyers.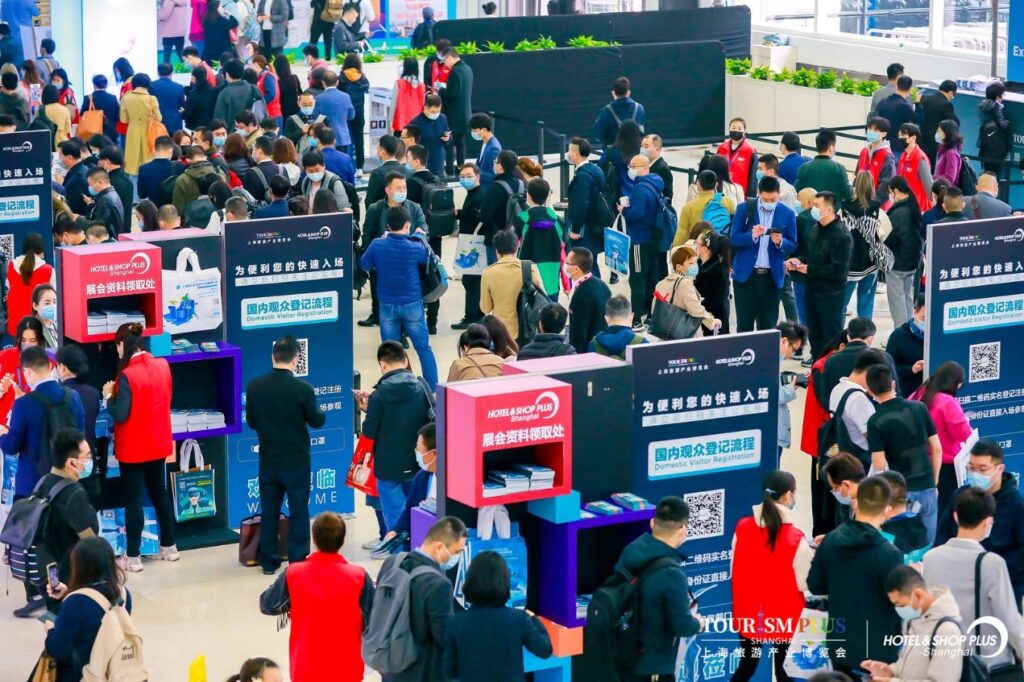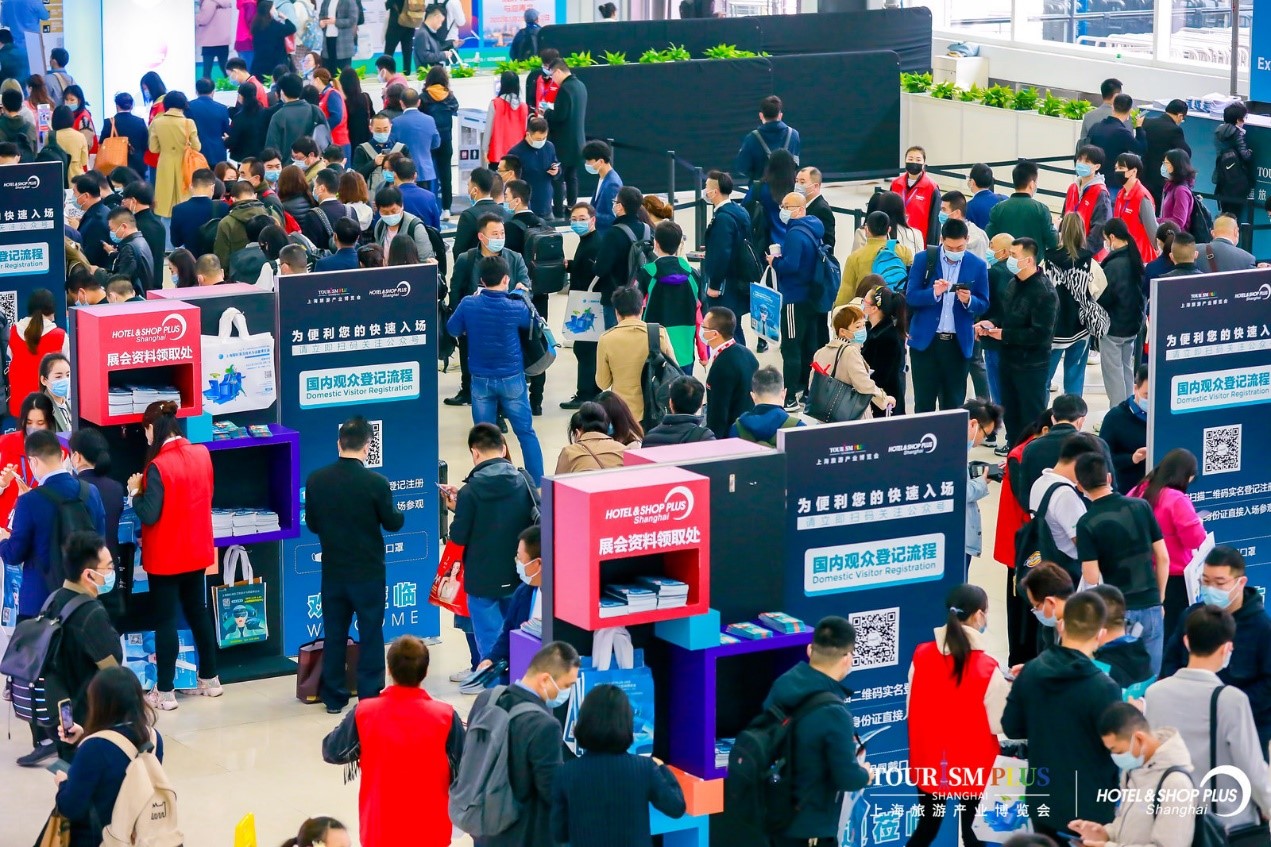 HOTEL & SHOP PLUS 2021 Entrance Hall
HOTEL & SHOP PLUS 2021 received much positive exhibitor feedback
HOTEL & SHOP PLUS 2021 covers an extensive range of show sectors, including Building & Decoration, Engineering Design, Interior Design, Lighting & Intelligent Control Systems, Smart Hotel, Hotel Room Amenities, Hotel Textiles, Fitness & Leisure, IT & Security, Self-service, Smart Retail, Commercial Space, Cleaning, Facility Management, and Hotel Investment & Franchise, to present a grand gathering for hospitality and commercial space industry. Throughout the 4-day event, it provided a one-of-a-kind platform for industry professionals to scout for cutting-edge technologies, discover inspirational designs, and fulfil their sourcing needs.
The right place for sourcing hotel textiles and room amenities
Groupe GM, which has been offering for more than 40 years exclusive amenities to the global hotel industry, and Canasin, the recommended and approved linen supplier of IHG, Marriott, Hilton, and other leading hotel groups worldwide, were two mainstays of Hall W3-W5. There were also Xiefuchun, Sidefu, GNF, Vanity, TONNEY, YouMian, LMZ, L'OCCITANE, and many more well-known brands.
"We have participated in HOTEL & SHOP PLUS for 20 years since 2001. We are always satisfied with the show because it can bring us new leads, and help our company's promotion in China and even around the world. Certainly we will exhibit at the next year's show", said Haojin Lu, Sales Manager of Guangzhou South Hotel Articles Co., Ltd..
Jing Li, Manager of Market & Brand at Canasin, also expressed her satisfaction with the show: "Since the inception of HOTEL & SHOP PLUS, we've been exhibiting at the show every year. This year, our expectations for the show have largely been met because our booth had a constant stream of clients during the show, and the exhibition halls were also packed out. Compared to the previous edition, we have seen an increase in visitor flow this year, and the quality of visitors is improved too."
Creative products showcased for interior design
Hall E1-E4 housed exhibit categories including ceramics, bathroom & total solution, outdoor design, home furnishings, and engineering design. SSWW, TENNE, Gold Sanitary Ware, KASOR, SANGO, Power Dekor, LUONNE, Huade Carpet, VOXFLOR, GREATSART, 3trees, Dinmei, Fsilon, HUJI, Xiangshi and more showcased premium brands within their portfolio.
Speaking as a newcomer at HOTEL & SHOP PLUS, Xin Zhao, General Agent – East China of LG, said that they would continue exhibiting at the show.
Ruiping Huo, GREATSART Marketing Director, said: "It was our fifth year to participate in HOTEL & SHOP PLUS. It has introduced many quality purchasers and franchisees to us."
Lighting and intelligent control system brands came together
Lighting suppliers, including OPPLE, NVC and Pak, as well as smart hotel and intelligent guest control system companies, including povodo, Xie Zhu Technology, RestHour and Xshuai, were put in the spotlight in Hall E5-E7.
"We've participated in HOTEL & SHOP PLUS for two years. ", said Wenduo Feng, Hospitality Lighting Development Manager of Commercial Lighting Department at OPPLE, in onsite interview, "We have shown our brand image and product concept to different user groups, such as owners, builders, and designers. They have also expressed strong willingness to cooperate with us. By leveraging the platform, I believe that, we will enhance our sales performance in the hospitality lighting market."
"It was our fifth year to exhibit at HOTEL & SHOP PLUS. The show is so popular that we participate in almost every year. This year we had the largest booth and highest popularity in Hall E6. Many thanks to the show organizer, and we will participate in the show in the following years", said Haibin Cheng, Founder of Xie Zhu Technology.
Endless possibilities of retail unlocked
In Hall N4-N5, a number of leading companies, including Alfilo, WiWide, LEBO, HEADING, Weimob, Umeng, Mastercard, TCN, SOYEA, KIMMA, LE, and Haibianli, presented the current trends for smart retail, self-service retail, and licensing.
Shudong Ni, Chairman Assistant and Intelligent Industry General Manager of SOYEA, also speaks highly of the show: "It's our first time exhibiting at HOTEL & SHOP PLUS. It helped us to connect with many potential partners, and generate nearly 100 qualified leads for further cooperation on the first day of the show. We will exhibit at the show in the following years."
Comprehensive cleaning solutions for facilities
Cleaning and safety is placed the top priority for hotels and commercial properties in the post-pandemic world. Hako, Comac, i-team, ChaoBao, Gaussian Robotics, CALMAC, RONGEN, DeepBlue and other renowned companies took center stage in Hall N1-N3, to provide comprehensive cleaning solutions for commercial buildings and other facilities.
Yi Yu, General Manager of Hako, considers the CCE show, one of the sub-shows of HOTEL & SHOP PLUS, as a good platform. He said: "The CCE show provides a very fair platform for customers to know more about the industry, cleaning equipment, suppliers and manufacturers, to find ideal and appropriate solutions. We exhibit at the CCE show every year, and it has become one of the most professional cleaning exhibitions in China."
Many more exhibitors and visitors have expressed their satisfaction with this year's HOTEL & SHOP PLUS show, and they are looking forward to more surprises in the next edition.
Specially planned exhibition zones
Apart from product showcasing, an array of exhibition zones was specially planned at HOTEL & SHOP PLUS 2021. Empowering cultural tourism, Hotel Plus Mockup Room Show and B&Bs Cultural Festival enable industry professionals to keep up with current investment trends. Pop-up stores and Green Vehicle and Smart Parking Exhibition Zone present the new development trends of retail. ISSA Pavilion and Cleaning Equipment Live Demo Zone gather cleaning brands locally and internationally, contributing to the development of the industry.
Exciting forums and competitions staged in turn
During the show period, more than 80 on-site events were staged in turn, casting a spotlight on the fields of hotel, design, commercial space, retail, cleaning, and facility management. The popular events included China Int'l Building & Interior Design Forum, China Int'l Lighting Design Forum, CRIDA China Restaurant Interior Design Forum, China Business Design Leaders Forum, China Hotel Procurement Conference, China Hotel Brand Culture Festival, 2021 Asia Hotel and Travel Forum Annual Meeting, China Int'l Shopping Mall Development Forum, Outlets Development Forum, China Retail Digital Transformation Forum, Chinese Homegrown Brand Development Forum, Shanghai Int'l Facility Management Forum, and China Cleaning Round Table.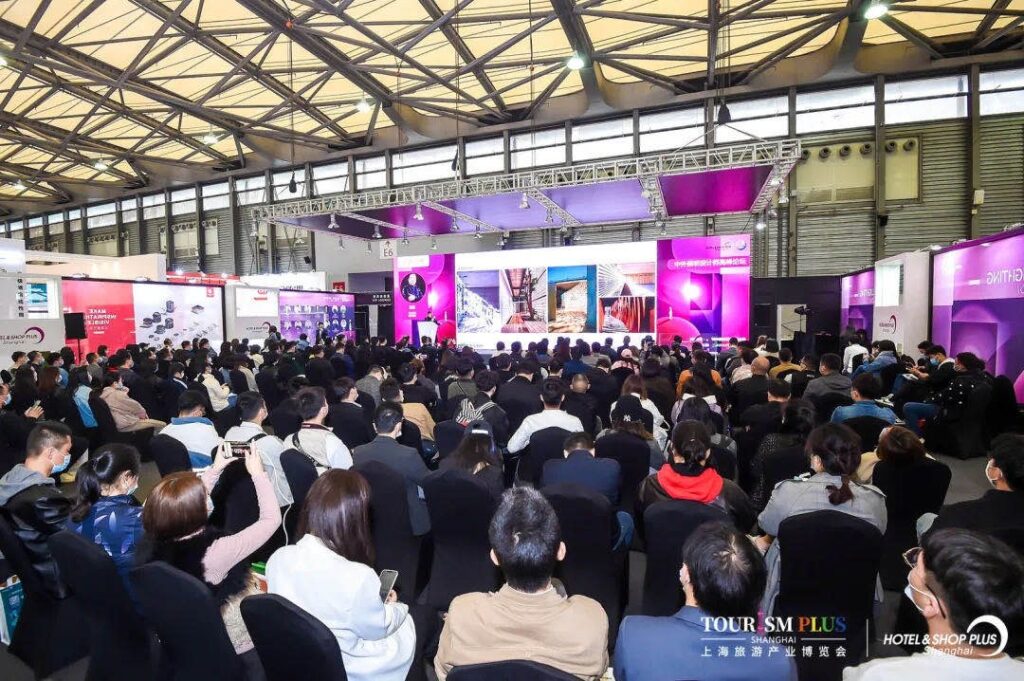 China International Lighting Design Forum at HOTEL & SHOP PLUS 2021
There were also a series of competitions including Hotel Housekeeping Competition, The 3rd China Cleaning and Washing Industry Professional Skills Competition sponsored by WANLILONG mop manufacturer, China Cleaning Skills Final Competition, The 1st Air Conditioning Cleaning Skill Competition, The 4th Yangtze River Delta (Shanghai) Indoor Air Treatment Skill Competition sponsored by JDXTE, China's professional researcher and manufacturer of air quality testers, showing hotel and cleaning professionals' spiritual confidence. In addition, Hotel Uniform Show indulged all attendees with eye-catching runway shows and short plays.
HOTEL & SHOP PLUS awards released, witnessing the highlight moment of the industry
On 31 March, the 2021 "Share the Dreams, Build the Future" HOTEL & SHOP PLUS Awards Ceremony and Gala Dinner gathered industry professionals all under one roof, to witness the highlight moment of the industry.
The Awards is focusing on hotel, design, cleaning and retail, including 24 categories which are Best Hotel Supplier Awards, Best Hotel Supplies Brand Awards, Hoteliers' Choice Awards, Designers' Choice Awards, Most Favored Brand by Commercial Space Awards, Best Lighting Brand for Hotels and Commercial Space Awards, Most Favored Brand by Smart Hotels Awards, Most Favored Supplier by Smart Hotels Awards, Best Hospitality Mockup Room Design of the Year Awards, Most Popular Hotel Mockup Room of the Year Awards, Best B&Bs Mockup Room Design of the Year Awards, Best Designer of the Year Awards, Best Smart Retail Equipment Supplier Awards, Best Retail Technology Solution Awards, Best Retail Digital Project Awards, Best Retail Innovation Awards, Best Outlets of the Year Awards, Best Outlets Design Firm of the Year Awards, Best Cleaning Brand Awards, Most Favored Supplier by Cleaning Service Providers Awards, Most Popular Property and Facility Management Company Awards, Air Conditioning Cleaning Demonstration Awards, Special Contribution Awards and Gold Awards 2021, to encourage excellent individuals, brands and suppliers who had made great contributions to the industry.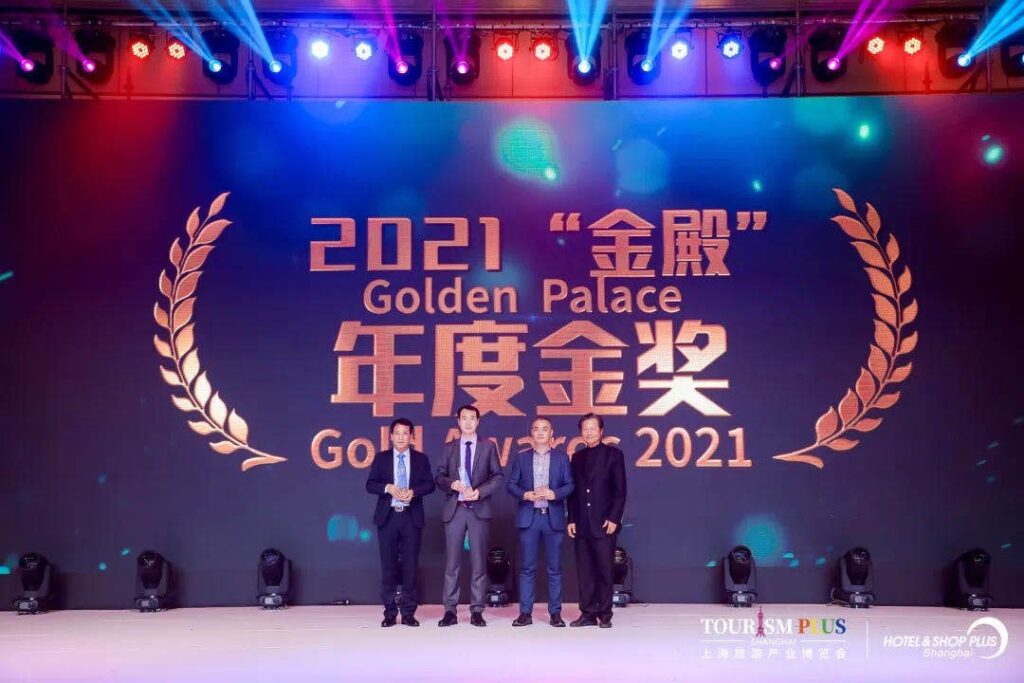 2021 HOTEL & SHOP PLUS Awards Ceremony
See you next March in Shanghai!
HOTEL & SHOP PLUS 2021 has concluded with great success. A special thanks to our partners, exhibitors and speakers for coming together to make the show one the best yet. We look forward to welcoming you at next year's HOTEL & SHOP PLUS from 29 March – 1 April at Shanghai New International Expo Centre (SNIEC).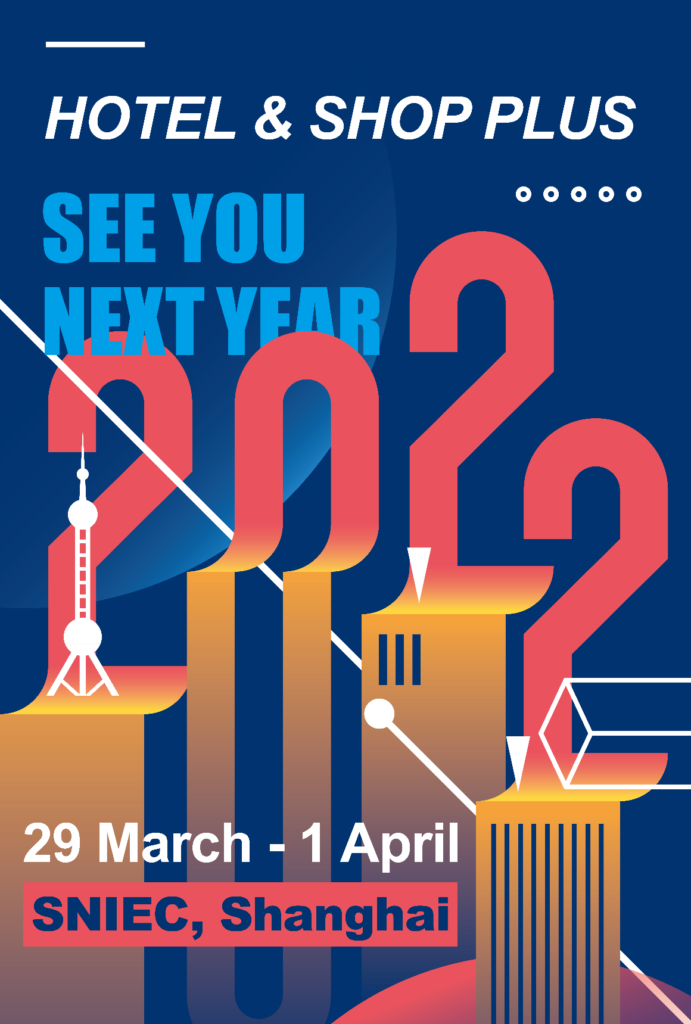 HOTEL & SHOP PLUS 2022 will be held from 29 March – 1 April at SNIEC, Shanghai